The Yogo family was founded by the shugenja Yogo - the husband of Asako - who had been cursed during the War Against Fu Leng. Cursed to betray those he loved, Yogo joined the Scorpion Clan after Bayushi convinced him that he did not love Bayushi or the Scorpion, and therefore could not betray them. [1]
Within the Family
Edit
For a thousand years, from 42 and the Day of Thunder, until 1128 and the Second Day of Thunder, the family's duty was to guard the Twelve Black Scrolls. [2]
Because of the Yogo Curse, the Yogo family had been forbidden to marry within the Scorpion Clan. [3] The curse still manifested itself in descendants of Yogo, and even the occasional member of the Asako family fell foul of this curse.[citation needed]
Yogo Mon
Edit
The mon of the Yogo family was a mask made of flaming feathers, representing their lost heritage to the Phoenix Clan. [4]
The Yogo family maintained only one school :
Alliances
Edit
In 750, with the creation of the Kuni Witch Hunters and the Kuroiban, the Yogo family and the Kuni family started a long relationship, sharing knowledge about Maho tsukai. [5]
Politics
Edit
Yogo Daimyo
Edit
Vassal families
Edit
The following were known vassal families of the Yogo family:
The smallest family in the Scorpion Clan, the Yogo controlled little land. Despite their relatively meager resources, they seemed uninterested in expanding their borders. [6]
Provinces
Edit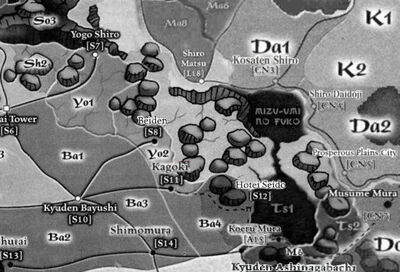 Major Yogo Holdings
Edit
Minor Yogo Holdings
Edit
Extraterritorial Holdings
Edit
See Also
Edit
References
Community content is available under
CC-BY-SA
unless otherwise noted.