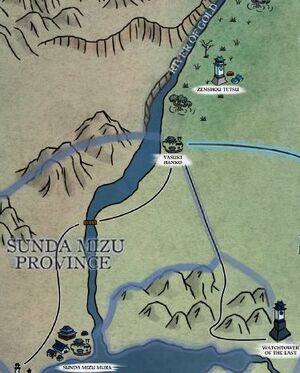 The village of Yasuki Defiance (CB16) belonged to the Crane Clan in the early years of the Empire. It had been known as Oyabashi Mura due to its control of Kawa Oyabashi, the river that flowed into Earthquake Fish Bay. [1] It was located in the Sunda Mizu province. [2]
Yasuki Defection
Edit
When the Yasuki family defected to the Crab Clan the peasants here defied the Crane, and many were killed by the Daidoji. Since the Second Yasuki War the Crane had re-occupied it, but the Crab still taxed it as their own. [3]
Second Yasuki War
Edit
Five days after the funeral of Toturi I, Crane forces took over Yasuki Hanko, marking the beginning of the Second Yasuki War. [4] The end of the War found Hanko in Crab hands, and the Crane were forced to relinquish their claim. [1]
Notable Lcoations
Edit
References
↑ Secrets of the Crab, p. 96
↑ Legend of the Five Rings; Third Edition, p. 288
↑ Four Winds, p. 31
Community content is available under
CC-BY-SA
unless otherwise noted.