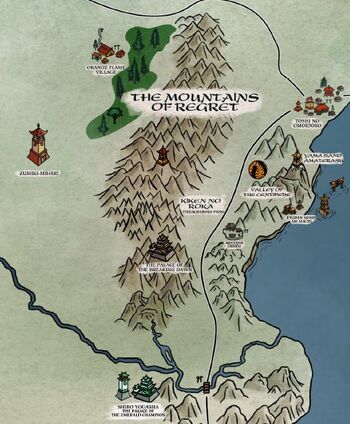 The Mountains of Regret (Z) were called that because of the many lives lost in the only pass that crossed the mountains. In the light of a sunset the snow on the mountains would turn red as snow, as if the mountains were bleeding. Despite the many foreboding aspects of the range, the mountains were known across Rokugan for their natural beauty. [1] [2] They hung above Otosan Uchi, [3] suffering frequent earthquakes. [4]
Ogres and goblin had been sighted here on numerous occasions, and many shugenja suspected there was an ancient breeding ground in the caves. If it existed, the Phoenix Clan had not been able to find it. [2][5]
Palace of the Breaking Dawn
Edit
Hidden somewhere in the Mountains of Regret stood the ronin Palace of the Breaking Dawn. [6]
References