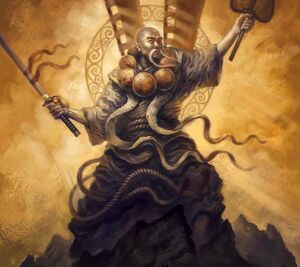 Wu was a Bandit Lord ronin who eventually was elevated as the Fortune of sensei.
Bandit Lord
Edit
Wu was a Bandit Lord who occupied a Crane castle. He was infamous for his collection of geisha, capturing them in raids and keeping them as concubines within his castle. Wu was approached by Sun Tao and the Bandit Lord wished to test the vaunted prowess of the renowned ronin general in action, and if he ever would succeed, Wu should leave these lands never to return. Sun Tao had to take one hundred of his concubines and teach them to march in good order. The tactician taught them, but they refused to obey. After Sun Tao beheaded Wu's two favorites, practicing military justice upon the field, the women marched in perfect unison. Wu immediately disbanded his army, released his geisha, scattered his soldiers, and joined Sun Tao's army. [1]
Wu was a sensei from the early Empire, a man who studied the ways of Akodo and Sun Tao. He was elevated to Fortune status. [2]
External Links
Edit
References
Community content is available under
CC-BY-SA
unless otherwise noted.