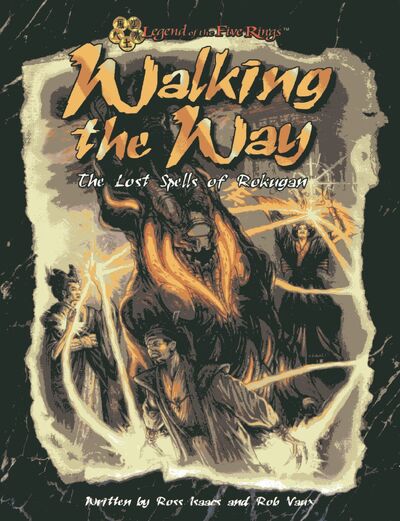 Walking the Way was a compilation of spells and adventure ideas for Legend of the Five Rings roleplaying game. The supplement supports the magic rules for the first edition Roleplaying Game. It was released on December 1998.
Written by: Ross Isaacs, Rob Vaux
Additional Material by: Patrick Kapera, Ree Soesbee, D.J. Trindle
Game System by: David Williams and John Wick
Cover Artwork: Tom Baxa
Interior Artwork: Jim Callahan, Cris Dornaus, Jennifer Mahr, Ben Peck, Ramon Perez, Mike Raabe, Doug Shuler
Artwork Prepress: Brendon Goodyear, Steve Hough
Line Editor: D.J. Trindle
Line Developer: Ree Soesbee
Editing: D.J. Trindle, Rob Vaux, jim pinto
Interior Layout: jim pinto
Table of Contents
Edit
Introduction (page 4)
Edit
Introduction
On Spells and Power Balance
Part 1: Earth Spells (page 6)
Edit
Part 2: Water Spells (page 32)
Edit
Part 3: Fire Spells (page 60)
Edit
Part 4: Air Spells (page 78)
Edit
Part 5: Void Spells (page 108)
Edit
See also
Edit
Community content is available under
CC-BY-SA
unless otherwise noted.