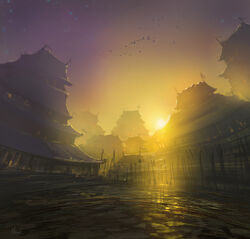 Twin Forks City was a city of the Colonies crossed by the Ki-Rin's Path, in the New Rokugan district, the obligated passageway between the Second City toward the Aerie or the Kalani's Landing. [1]
Location
Edit
Twin Forks was the second-largest settlement of this region, well south of the first, the Second City. It was constructed at the fork of the Shinano river, and the western fork of the Shinano, the lager Dai-Shinano, continued south to the Mantis port Kalani's Landing. [2]
War with the Mantis
Edit
In 1198 during the Mantis-Crane War in the Colonies, the Mantis broke the Crane blockade there, sinking several ships and killing many defenders. [3] The Mantis later laid siege to the city, attacking from the water, moving into the channels that split the city, and then withdrawing. They were wearing down the dockside defenders and drawing out counterattacks from the city. [4]
P'an Ku's Madness
Edit
In the Battle of Ten Thousand Martyrs the mad dragon P'an Ku had intervened, provoking a series of events that ended with the Crane fleet practically wiped out, and few Mantis ships survived. [5]
A Brother's Destiny
Edit
The eldest brother of the Empress, Iweko Seiken, and his supporters have taken control of the Second City. The Crane removed their presence from the Colonial capital and offered sanctuary at Twin Forks City to those who also protested this overreaction. [6]
External Links
Edit
References
Community content is available under
CC-BY-SA
unless otherwise noted.