Isawa Tokiko was an Ishiken of the Phoenix Clan. She retired and became the monk Tokiko. She was selected among the Seven Sohei.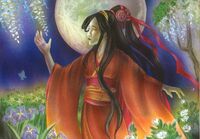 She was a student of Shiba Ningen, but some considered her less than stable. [1]
Night of the Assassins
Edit
She was sent on a mission to the Kyuden Ashinagabachi in 1170, and it was rumored it was to get rid of her from Kyuden Isawa. Whatever the reason, her presence there saved the life of the Tsuruchi Daimyo Tsuruchi Nobumoto during the rash of assassinations that hit the Empire. [1]
Tokiko retired as a monk named Tokiko, [2] within the Order of Rebirth. [3]
Destroyer War
Edit
In 1172 during the Destroyer War she and other monks were spirited by the letters of the monk Rokku, formerly a Lion. He wrote that the time for action had come, so he had decided to leave the monastic life and march to the battlefield again. Tokiko, Rokku's cousin Itoku - another retired Lion - and Makito, who said he was seeking penance, came to met Rokku. The group departed to fight the Destroyers, [2] and they were known as the Seven Sohei. [4]
External Links
Edit
References
Community content is available under
CC-BY-SA
unless otherwise noted.