Way of the Unicorn was the first source book for the Unicorn Clan in the Legend of the Five Rings roleplaying game and the second in the Way of the Clan series.
Written by: Edward Bolme & Andrew Heckt
Additional Material by: David Williams, Rob Vaux, Cris Dornaus, Steve Swarner, Maureen Yates, Jennifer Mahr, Ree Soesbee, and Marcelo Figueroa
Game System By: David Williams and John Wick
Art Direction: KC Lancaster
Cover Artwork: Carl Frank
Interior Artwork: Toren Atkinson, Mary Lee Bryning, C.H. Burnett, Matt Cavotta, Ron Chironna, Cris Dornaus, Jason Felix, Eric Olson, Michael Phillippi, Thom Roman, Alex Shiekman, Brian Snoddy, Joshua Timbrook
Maps: KC Lancaster
Artwork Prepress: Cris Dornaus, Steve Hough
Line Editor: D.J. Trindle
Line Developer: John Wick
Editing: D.J. Trindle, Rob Vaux, John Wick
Interior Layout: D.J. Trindle, Steve Hough
2nd Printing Layout Adjustments: Brendon Goodyear.
The Thursday Night Kamikaze Squad: David Conom, Brent G. Dunsire, Ingrid Granberg, Tige Rustad, William Shell
Table of Contents
Edit
The Lady's Heir (page 4)
Edit
Chapter One: Shinjo's Children (page 13)
Edit
Chapter Two: The History of the Unicorn (page 19)
Edit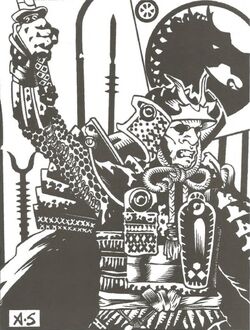 Chapter Three: Character (page 49)
Edit
Chapter Four: Who's Who in the Unicorn Clan (page 61)
Edit
Chapter Five: Sample Unicorn Characters (page 77)
Edit
Appendix 1: Strategy and Tactics (page 90)
Edit
Unicorn cavalry tactics
Offensive strategy
Defensive strategy
Letter from Bayushi Sujiko to Akodo Ujinden.
Letter from Akodo Ujinden to Bayushi Sujiko.
Appendix 2: Treasures of the Unicorn (page 98)
Edit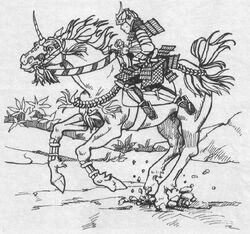 Horses in Rokugan
Gaijin Gear
High-Grade Equipment
Unicorn Clan spells
Unicorn Clan nemuranai
Appendix 3: Miscellany (page 112)
Edit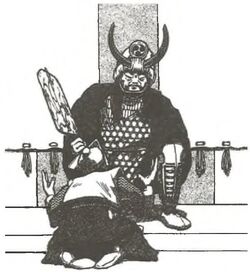 Appendix IV: L5R CCG Unicorn Decks (page 121)
Edit
"Pony Express"
"Stranglehold"
Unicorn Clan Character Sheet (page 125)
Edit
Community content is available under
CC-BY-SA
unless otherwise noted.