Tidal Landbridge (UUU) was a small strip of turf on the entrance to Warm Springs Bay. [1]
Natural wonder
Edit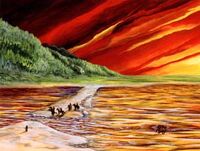 It was one of the natural wonders of Rokugan. At low tide, it sat uncovered by the water, forming a landbridge almost half a mile long connecting the Crab and Crane domains, but at high tide the landbridge was completely submerged. Its ability to shorten travel routes for overland trade had made its control an ongoing dispute between the Crab and Crane. The Crane had placed a garrison of Daidoji on their (eastern) side of the landbridge, registering anyone who crosses. [2] [3]
Battle of Tidal Landbridge
Edit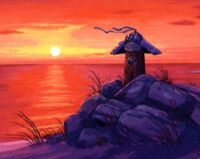 Hida Bokaru was the third son of Crab Clan Champion Hida Banuken, and defender of the easternmost portion of the Kaiu wall. In 715 he was defending the Tidal Landbridge from the attacking Oni no Kinjiro and was seriously injured in the fight. That he survived was because of the timely intervention from the Daidoji Daimyo Daidoji Masashigi. Both Masashigi and Kinjiro were drowned in the high tide, and a shrine was erected in Masashigi's memory by the Crab. The battle became known as the Battle of the Tidal Landbridge, and is one of the reasons for the respect the Hida family has for the Daidoji. [4] [5][6]
External Links
Edit
References
Community content is available under
CC-BY-SA
unless otherwise noted.