Shinjo Tsuburo was a bushi of the Unicorn Clan.
Shinjo Hanari was Tsuburo's older brother. [1] Tsuburo was a brash samurai who had been chastised many times for his enthusiasm. He was not very good at accepting orders which prevented him from making immediate and direct contact with the enemy. [2]
Humble Soldier
Edit
Shinjo Tsuburo was a fine soldier of the Unicorn. He never knew defeat on the field of battle, and yet refused every promotion or command that was offered to him by his superiors. Finally, he was called before the Unicorn Clan Champion, Shinjo Yokatsu. The Champion offered him the rank of taisa, but Tsuburo refused and offered his seppuku when he denied a second time his Lord's request. Tsuburo knew his destiny was to serve as a soldier. The humble warrior would rather take his own life than risk failing his lord and thwarting his destiny. The final decision was made after Shinjo Hanari explained that Tsuburo was not very bright. Yokatsu immediately permitted Tsuburo to return to his unit, ordering that he would never be permitted to rise above his current rank. [1]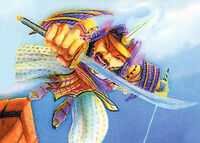 Tsuburo served the Unicorn for many years until he died in a battle in the War of Spirits. [1]
Legion of the Dead
Edit
In 1166 Tsuburo joined the Legion of the Dead. He had stepped forward to answer Matsu Goemon's call. [1]
See also
Edit
External Links
Edit
References