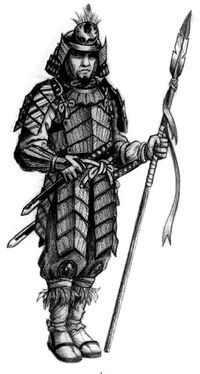 The basic troop of the Phoenix Clan, the Shiba Bushi were some of the Empire's most contemplative warriors. They trained closely with the Isawa and had learned much from their experiences, including how to focus their inner strength to a level unparalelled among bushi in the Empire. [1]
Teachings
Edit
A Shiba bushi considered all options before committing to combat, searching for any possible alternative other than the loss of life. [2] There were a few sensei who taught iaijutsu. [3]
Known techniques
Edit
This is the list of the known techniques of the Shiba Bushi school: [4]
See also
Edit
References
Community content is available under
CC-BY-SA
unless otherwise noted.