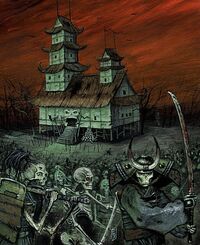 Shadowlands Horde was a term first used by the infamous Yogo Junzo in the 12th century. Junzo claimed that he had a dream, a vision in which the diverse creatures of darkness were unified beneath a single leader, and called this army the Shadowlands Horde. He also told that the newest mon of the Shadowlands, a scowling oni, came to him in that dream. Junzo emblazoned the mon in a Battle Standard rallying the minions of the Shadowlands under it, and declared himself as the new leader until the return of the true one. [1] Others simply called it Yogo Junzo's Army. [2]
External Links
Edit
References
Community content is available under
CC-BY-SA
unless otherwise noted.