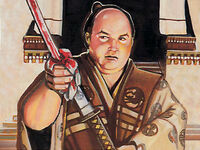 Seppun Nakao was a bushi of Toturi's Army and General of the Imperial City.
Appearance and Demeanor
Edit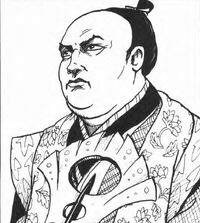 Nakao was tall, strong, a follower of bushido, and an unquestioned loyal follower. He had the potential to be a brilliant general but he left strategy to others. After Nakao averted an attempt on Kakita Yoshi's life, the powerful courtier became his friend. [1]
Imperial Legions
Edit
Nakao was a member of the Nineteenth Imperial Legion, reaching the rank of taisa, assigned to guard Beiden Pass. [1] He commanded the occupation of Ryoko Owari Toshi, as part of the Imperial retaliation after the failure of the Scorpion Coup. Under his command were the chui Seppun Hanzo, and a young gunso by the name Doji Reju. He left the command to attend provincial Winter Court at Kyuden Kakita in 1126. [2] Two months later, in the Month of the Hare of 1127, the Eighteenth Legion was destroyed by the surprise Crab attack. [3]
Madness of Toturi
Edit
Nakao stood by Seppun Toshiken during the slaughter of the Imperial Court. [4]
War against Shadow
Edit
Nakao was aware that minions of the Shadow had infiltrated between his ranks, and within the Emerald Magistrates. Nakao and his fellows began to seek and destroy them. [5]
See also
Edit
External Links
Edit
References
Community content is available under
CC-BY-SA
unless otherwise noted.