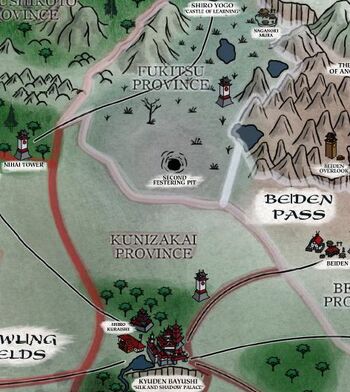 The Second Festering Pit, located in the Fukitsu province, [1] was a portal in the heart of the Scorpion lands that connected Jigoku (Hell) with Ningen-do (the Mortal Realm). [2]
Creation
Edit
The Second Pit was created in the month of the Goat of 1173, near Shinden Gyokei, [3] during the final battle of the Destroyer War. The area had already been heavily tainted by the clash between Fu Leng and the foreign goddess Kali-Ma, and then by Fu Leng's death; both of these events weakened the fabric between Ningen-do and Jigoku. The pit was torn into being when Daigotsu, the ascended Dark God, crossed over from Jigoku and manifested on the battlefield to kill Kali-Ma.
Following the pit's creation, the Crab and the Scorpion were entrusted to defend the Empire from the threat that it posed. [4] They brokered a formal alliance over the management and security of the Second Pit, known as the Treaty of Odashi. [5]
The Crab Kaiu Iemasa oversaw the building of the Scorpion Wall around the second Pit. [6] In 1199 the Imperial Regent Utaku Zo Sia ordered to establish a buffer area around the Second Pit, which would be excluded from any military actions which were not related to the defense of the Scorpion Wall. [7] Imperial decree dictated that no foreign army would come within half a li of the Second Festering Pit except in assistance against outbreaks. [1]
References
Community content is available under
CC-BY-SA
unless otherwise noted.