Sasageru was the Ancestral Armor of the Crane Clan. [1] The armor took its name from its first bearer Doji Sasageru, great-grandson of Lady Doji, and it was literally a creation of that man's soul and honor. [2]
It was created by Lady Doji the day she walked into the sea in 102. She had called her great-grandson to sit with her on the shore, and they spoke together of honor, duty and devotion. At last Lady Doji rose and offered her great-grandson her hand, and as he took it the sun's light shone around his body and he found himself encased in glittering blue and white armor. As a parting gift from Doji to her heirs Sasageru was made of a strange metal which gleamed in sunlight. [3]
Appearance and Abilities
Edit
It shone a pale blue with highlights of darker blues. The laces connecting the plates were of white silk, finer than any lady's obi. Enameled upon the do was a crane in flight, it's wings stretching out across the wearers breast. The armor could not be scratched and no blow would dent it. It seemed to be indestructible, and remained untarnished for centuries. [3]
The armor passed down from one Crane Clan Champion or Regent to the next, worn only when the Champion led the Crane armies in war, or to special functions such as formal military meetings with Imperial guests. When the Crane Champion served in a post with his own trappings, as Emerald Champion, Sasageru remained with the Crane Clan and was used by the Champion's appointed general in his absence. [2]
Known wearers of Sasageru
Edit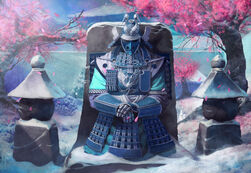 See Also
Edit
External Links
Edit
References
↑ Prayers and Treasures, p. 120
Community content is available under
CC-BY-SA
unless otherwise noted.