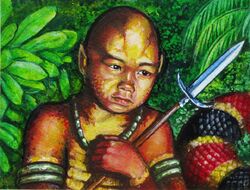 Oseuth was a Tactician Naga squire, the rebirth of the Warrior of the Pale Eye.
Warrior of the Pale Eye
Edit
Oseuth was the reborn soul of the greatest Naga hero, the Warrior of the Pale Eye. [1] He was destined to be fully reborn, so the Oseuth knew he had to die so that the Oseuth could be united and reborn. He was distinct from the Akasha, and at the same time, part of it. [2]
In 1132 when the Qamar knew that Hida Yakamo had perished after his people abandonment of Shiro Hiruma, he commanded the Shashakar to locate the Jade Hand with his magical divination powers. The Hand laid near the Black Finger River, and Oseuth was dispatched to recover it. He returned with an unexpected prize, the corpse of Yakamo. [3]
The Pearl
Edit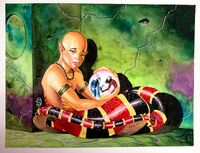 In 1133 during the march to Volturnum Iuchi Karasu confronted Kuni Yori. With a Naga Pearl and the aid of Oseuth, Karasu drew both himself and Yori into the Pearl Prison. [4] [5] [6]
External Links
Edit
References
Community content is available under
CC-BY-SA
unless otherwise noted.