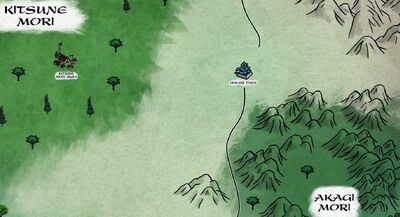 Wolf City (CN12) in the Kougen province [1] overlooked a sharp cliff at the mountains edge.
The term "Ookami", similar to Okami or wolf, suggested ronin. The city took its name in the 8th century from Doji Yujiro, a Crane samurai who became a disavowed ronin to take revenge on a treacherous courtier named Matsu Kaoru involving the death of the Crane Clan Champion's son. The Matsu was killed during an attack on the Dragon before Yujiro could complete his mission, and the ronin was invited back into the clan and privately thanked for his dedication. He was assigned a prominent position in the city, which was named Ookami Toshi to honor Yujiro's time as a ronin. [2]
Defensive Position
Edit
As Yujiro was of a military bent, he made the small farming village a heavily armed fortress, [2] well guarded, containing an extraordinary messenger system. If under attack Daidoji runners would spread the news within days, maybe even sooner. Some said the heart of Ookami Toshi held a great mirror capable of passing messages back and forth to another mirror, hidden somewhere in the Empire, possibly Kyuden Doji. [3]
Tournament of the Emperor's Favored
Edit
Ookami Toshi was one of the places where the Tournament of the Minor Clans was held. [4]
References
Community content is available under
CC-BY-SA
unless otherwise noted.