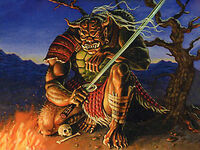 The Ogre Bushi, which would be later known as the Free Ogre Bushi, [1] was an ogre school which predated the Fall of the Kami.
Tradition
Edit
Ogres might accept humans or Tsuno in their dojo if they possessed an unnatural strength. [2]
Free ogres
Edit
Those free ogres who wandered far from the Shadowlands recovered their sanity and intelligence. They were able to speech, and sensed the direction of the closest ogre group. These free ogres kept teaching the techniques of their lost school. [3]
Known Ogre Bushi Techniques
Edit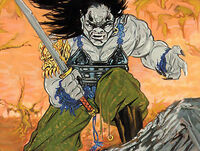 See also
Edit
External Links
Edit
References
Community content is available under
CC-BY-SA
unless otherwise noted.