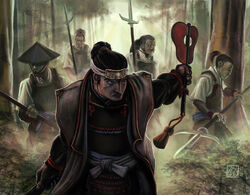 The rank of nikutai designated a corporal of a squad under the command of a gunso. The nikutai would directly control from five to ten hohei. [1]
Mantis Clan
Edit
In the Mantis Clan a First Mate was considered equivalent to the ninutai rank, and he was under the Captain of the ship, the equivalent of a gunso. [2] He was in charge of the ship's cargo, served as watchstander when the captain was off duty, and assigned duties to the members of the crew. [3]
The Naga called dukhva to their corporals, which commanded a cell of Naga Warriors. [4]
See also
Edit
External Links
Edit
References