Night of a Thousand Screams (L-2) was an adventure book for the Legend of the Five Rings roleplaying game, and the second of the "City of Lies" series. It showed more in-depth aspects of combat.
Art Director: KC Lancaster
Cover Artwork: Cris Dornaus
Interior Artwork: Cris Dornaus
City Map: KC Lancaster
Structure Maps: Cris Dornaus
Artwork Prepress: Cris Dornaus, Steve Hough
Line Editor: D.J. Trindle
Editing: D.J. Trindle, Patrick Kapera
Interior Layout: Steve Hough, Ree Soesbee
Night of a Thousand Screams: Table of Contents
Edit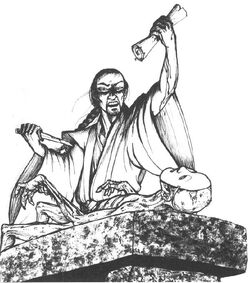 Introduction (page 4)
Edit
5:30 P.M. Party Crasher (page 6)
Edit
6:00 P.M. Stop! Thief! (page 10)
Edit
6:20 P.M. The Chase is On! (page 12)
Edit
7:00 P.M. Back at the Inn (page 16)
Edit
7:10 P.M. Rock-a-Bye Oni (page 17) Edit
7:45 P.M. A Delicate Game (page 20)
Edit
8:15 P.M. The Unicorn Warehouse (page 22)
Edit
8:40 P.M. The Heart of the Problem (page 24)
Edit
9:00 P.M. A Tattooed Friend (page 27) Edit
9:30 P.M. The Merchant's Secret (page 29) Edit
11:00 P.M. A Friend in Need (page 34)
Edit
11-2 A.M. Secrets and Threats (page 35)
Edit
2:15 A.M. Ambush! (page 38)
Edit
3:00 A.M. The Prison (page 38)
Edit
3:30 A.M. Death of a Merchant (page 41)
Edit
Community content is available under
CC-BY-SA
unless otherwise noted.