Mask of the Oni was an adventure book for Fifth Edition of the Legend of the Five Rings roleplaying game under Fantasy Flight Games.
Synopsis
Edit
When a group of samurai pursues a dangerous master of blood magic to the ruins of Daylight Castle, they discover a secret that could redeem or stain the honor of the Hiruma family forever. These samurai must overcome threats to both body and soul if they are going to halt a wicked plot that could bring about the doom of the Empire…
Contents
Edit
Mask of the Oni (page 2)
Edit
Part One: Adventure Background (page 2)
Edit
Part Two: Arriving at the Kaiu Wall (page 7)
Edit
Part Three: Into the Shadowlands (page 10)
Edit
Part Four: Shadow of Daylight (page 16)
Edit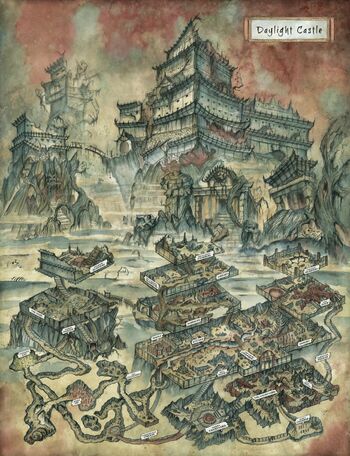 Approaching Shiro Hiruma
Entering Shiro Hiruma
Exploring Shiro Hiruma
Helpful Dreams
On Kitsu Sokori's Trail
Encountering Sokori
Gathering the Keys
Sokori's Objective
Part Five: Final Confrontation (page 26)
Edit
Kitsu Sokori
The Souls of the Fallen Hiruma
The Course of the Battle
Part Sixth: The Aftermath (page 31)
Edit
Credits (page 31)
Edit
Expansion Design and Development: Tim Cox and Alexis Dykema
Writing and Additional Development: D. G. Laderoute and Maxime Lemaire
Editing: Christine Crabb
Proofreading: Janie Franz and David Johnson
Managing RPG Producer: Sam Gregor-Stewart
Legend of the Five Ring Story Review: Katrina Ostrander and Tyler Parrot
Expansion Graphic Design: Sebastián Koziner and Michael Silsby
Graphic Design Coordinator: Joseph D. Olson
Graphic Design Manager: Cristopher Hosch
Front Cover Art: Mathias Kollros
Back Cover Art: Daria Khlebnikova
Interior Art: Apterus, Francesca Baerald, John Anthony Di Giovanni, Stanislav Dikolenko, Daria Khlebnikova, Axel Sauerwald
Art Direction: Andrew Christensen and Preston Stone
Managing Art Director: Melissa Shetler
Quality Assurance Director: Andrew Janeba and Zach Tewalthomas
Production Management: Jason Glawe and Dylan Tierney
Visual Creative Director: Brian Schomburg
Senior Project Manager: John Franz-Wichlacz
Senior Manager of Project Development: Chris Gerber
Executive Game Designer: Corey Konieczka
Publisher: Andrew Navaro
Playtesters: Gavin Duffy, Martin Flanagan, Cole Hanton, Ian Houlihan, Tim Huckelbery, Michael Hurrell, Evangelen Lee, Michael Molyneaux, James O'Connor, Brandon Perdue
Community content is available under
CC-BY-SA
unless otherwise noted.