Maho Bujin, also known as Shadowlands Madmen, [1] were bloodspeakers warriors [2] of those consumed by the taint. After they were transformed in a creature of the Shadowlands they traveled toward the Festering Pit of Fu Leng, to become a living servant of Jigoku. Most Maho Bujin were Crab bushi. [3] Those who passed a test made by akutsukai joined the Shadowlands ranks, and the failures were fed to oni. [4] Their humanity was completely gone, reducing them to mindless, bloodthirsty animals. They commonly were used on the front-lines of Shadowlands armies. [5]
First War
Edit
During the War Against Fu Leng countless commoner and samurai alike were consumed by the taint, and most of them became madmen. [6]
Clan Wars
Edit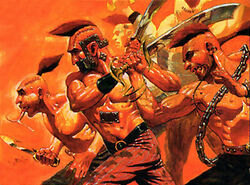 In 1127 an army of madmen led by the False Hoturi fooled Kyuden Kakita's defenders into opening the gates, and the castle fallen shortly thereafter. [7]
Known Maho Bujin Techniques
Edit
Any Lost who was sufficiently powerful and useful to Jigoku could gain its attention, becoming a maho-bujin. [8] They trained in the Shadowlands learning techniques as their bushi counterparts. [9]
See also
Edit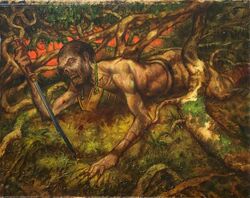 External Links
Edit
References
Community content is available under
CC-BY-SA
unless otherwise noted.