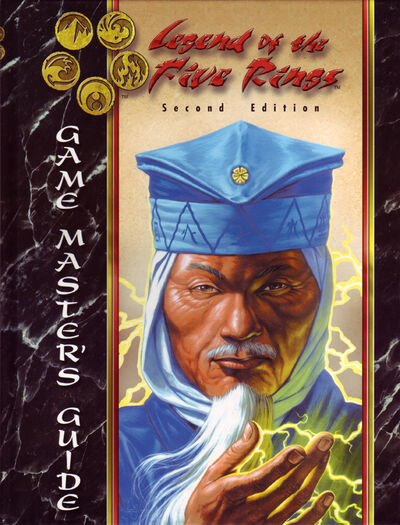 Legend of the Five Rings: Second Edition: Game Master's Guide was the Game Master's core rulebook for Second Edition of the Legend of the Five Rings roleplaying game.
Contents
Edit
Chapter One: Void (page 6)
Edit
Cities and Villages
Regions of the Empire
Chapter Two: Within (page 60)
Edit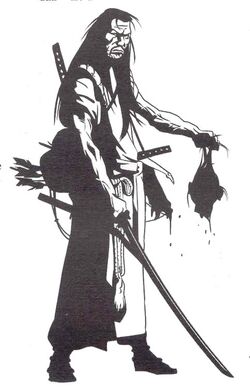 The Minor Clans
GM Clan Material
Normal Creatures
Chapter Three: Without (page 114)
Edit
Creatures
The Living Darkness

The Beginning
The Scorpion Connection
The Lying Darkness
The Darkness and Your PCs
Touched By the Darkness
The Darkness in Your Game
Chapter Four: Bushido (page 152)
Edit
How To Run an L5R Campaign
Adventure Themes
Experience
Using NPCs
Adventure Ideas: Skills
Adventure Ideas: Advantages
Adventure Ideas: Disadvantages
The GM's Grab Bag
The Haunting of Usagi Castle (Introductory Adventure)

Synopsis
Game Master Notes
The Assignment
Investigating the Ruins
Resolution
Who's Who
The Inquisitors
I'm Haunted!
Appendix: All and Nothing (page 216)
Edit
Charts
Items and Trinkets
Interesting NPCs
Encounters
Events
The Shadowlands
Creating Oni
Bandit Creation Table
Mastery Levels of Previously Published Spells
The Battle Table
Character Option Compilation - Skills
Character Option Compilation - Advantages
Character Option Compilation - Disadvantages
Notes for Character Option Compilation
Index
Community content is available under
CC-BY-SA
unless otherwise noted.