Koten (CB14) was the Crab Ancestral Hall, located in the Kyoukan province. [1] The walls were inscribed with the tales of Crab heroes. [2]
Appearance
Edit
The Hall it was built in the 12th century, [3] modeled after the Lion Hall of Ancestors, but was lacking the remains of many heroes and their weapons. In the Shadowlands, the dead usually were carried away by the Horde, or reanimate on their own. As for mementoes, a useful weapon would not be wasted and left on display in a tomb, but claimed by another. The emptiness of the hall was wholly depressing, and it was called the most depressing place in all of Rokugan. The main keeper of the hall during middle 12th century was a monk simply known as Kinen. [4] [5]
On the other hand, the abundance of legends contained in Koten was inspiring. The lonely monks that chanted through the halls in mourning of the dead were known to have excellent memories. They listened to the history of each fallen hero, and, in respect for their sacrifice, remembered nearly every such story. A vistor could ask the monks about any Crab hero, no matter how obscure, and expected to hear a stirring tale of courage and duty. Other clans claimed this to be false on the fact that no man could remember the tales of all those heros. [4] [5]
Honored Weapons and Heroes
Edit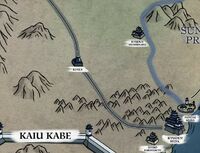 One of the Crab heroes who remained in Koten was Hida O-Ushi, and the O-Ushi's Hammer being wielded by her statue. Also there was the Guide to the Shadowlands, inside Kuni Mokuna's personal shrine, [6] and another weapon was Hiruma Masagaro's daisho, [7]
Inside Koten was built the Temple of Persistence, to honor the Fortune of Persistence, Kisada. [8]
After the death of Iuchiban in 1166 Kisada retired to Koten with his great grandson Ichiro to train him. [9] In 1167 Koten was the place were the Lost made repeated trips to met Kisada, the returned Fortune of the Persistence, in the Time of Demons. [10] In 1170 he was murdered at the temple by a team of assassins. [11]
Known Custodian of Koten
Edit
External Links
Edit
References
Community content is available under
CC-BY-SA
unless otherwise noted.