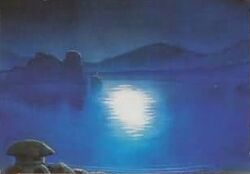 Forbidden Lake was a stagnant lake [1] of black waters. The Black Finger River ended onto it. [2] The water was almost unnaturally placid, and only the most severe of storms were able to create waves on its surface. [3]
Crystal of Lake Edit
Legend said that before the fall of Fu Leng, the lake was known the Lake of Crystal and was one of the most beautiful and pure lakes in Rokugan. [3]
References