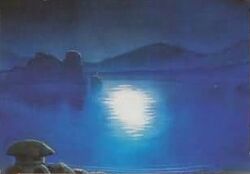 Forbidden Lake was a stagnant lake [1] of black waters. The Black Finger River ended onto it. [2] The water was almost unnaturally placid, and only the most severe of storms were able to create waves on its surface. [3]
Legend said that before the fall of Fu Leng, the lake was known the Lake of Crystal and was one of the most beautiful and pure lakes in Rokugan. [3]
References
Community content is available under
CC-BY-SA
unless otherwise noted.