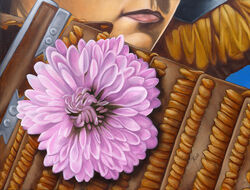 The Chrysanthemum, known in rokugani as 'Kiku', [1] was a perennially blooming flower which grew in a variety of colors. It was also known as the sun flower, and it was considered the blessed blossom of the Sun Goddess, Amaterasu. [2]
The Chrysanthemum was the symbol of the Hantei Dynasty, representing their ties to the Sun Goddess and Hantei's position as pre-eminent among all the Kami, [3] so it became the Imperial symbol of Rokugan. [4] Items, documents or clothing marked thusly were the personal property of the Emperor and were considered sacred objects. [citation needed] No other person or group in Rokugan was allowed to display the chrysanthemum device. The Seppun were allowed to use the chrysanthemum in their family mon, but only as part of a larger emblem. [5]
References
Community content is available under
CC-BY-SA
unless otherwise noted.