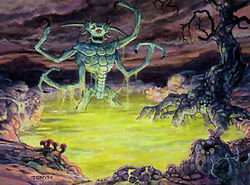 The Festering Pit of Fu Leng (SSS), or simply the Festering Pit, was the place where Fu Leng landed when the Kami fell from Tengoku. The crater of his impact stretched deep into Jigoku in the exact center of what would become the Shadowlands. The Pit served to focus the power and hatred of Fu Leng into solid form. [1]
Effects of the Festering Pit
[
edit
|
edit source
]
Evil eminanted from the Pit, and the largest and most dreadful oni went there to worship the Dark Lord. Crab Clan scouts would say that the pit stretched all the way to the Tomb of Fu Leng, and he used it as a window to watch Ningen-do, yet given that no human had ever seen the Pit and survived with their sanity intact, their reports should not be taken at face value. [1] The sky overhead was constantly wracked with horrible storms, and blood, grease, and bile rained down upon it. Horrible monsters spawned from the pit, crawling out of the depths into the eerie light of the Shadowlands. [2]
Demons and spirits were able to freely pass between Ningen-do and Jigoku in this place [3]
In 1128 the Pit became the grave of Fu Leng after Kuni Yori buried once-possessed Hantei XXXIX's skull, called Fu Leng's Skull, there. [4]
Another portal to Jigoku from the mortal realm was opened in 1173, the Second Festering Pit, in the Scorpion lands during the end of the Destroyer War. [5]
References
Community content is available under
CC-BY-SA
unless otherwise noted.