Kakita Mai was a courtier of the Crane Clan.
When Kakita Noritoshi became the Kakita Daimyo, he was quick to marry Mai (his childhood love) and conceive an heir. [1] Their son was born in 1160, while the doors of Kyuden Kakita were closed, and so was afflicted by its curse. [2]
Fires at Toshi Ranbo
Edit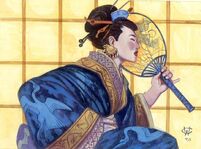 In 1165 Mai was with the Crane Clan Champion, Doji Kurohito, when a messenger informed about an important fire had devastated part of Toshi Ranbo. [3]
Mai's Yojimbo
Edit
Daidoji Sabaru was the yojimbo of Kakita Mai. [4]
Topaz Championship
Edit
Mai was selected to be a judge in the courtier contest of the Topaz Championship [5] in 1167, but she fell extremely ill and she could no attend the contest. [6]
Following the threats Shosuro Jimen made against his family during the Emerald Championship, Noritoshi sent Mai and their son Ichiro into hiding. He covered their escape by staging a festival at Kyuden Kakita and inviting dozens of women and children who had some resemblance to Mai and Ichiro. [7] Mai had been living under the name Ashidaka Midori, but she was discovered and murdered by Bayushi Sunetra in 1170. [8]
External Links
Edit
References
Community content is available under
CC-BY-SA
unless otherwise noted.