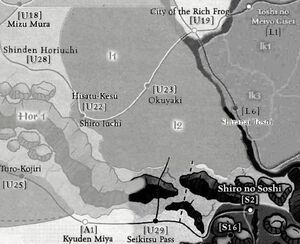 Kaihi province (Iu2) was a Unicorn province of the Iuchi family. It contained the capital Shiro Iuchi, the city of Hisatu-Kesu, the village of Okuyaki, the Seikitsu Pass, [1] which hid the City of Night within the Great Crater, [2] the Souin Kureta monastery, [3] the castle of Shiro Kenshin, the Tower of the Kelet, the Forest of the Dreamers, [4] and Sukoshi Zutsu. [5]
The province was bordered by the Shinten province (Iu1) to the North, by the Ujidera province (Hor1) to the West, by the Scorpion border to the South, being surrounded by the Three Sides River to the East, which separated from the Lion territory. [1]
References
↑ Great Crater (Gold flavor)
↑ Way of the Open Hand, p. 47
↑ Secrets of the Unicorn, p. 45
↑ The Atlas of Rokugan, p. 176
Community content is available under
CC-BY-SA
unless otherwise noted.