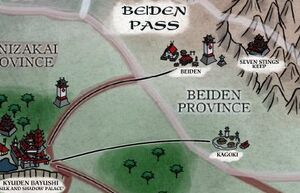 Kagoki (S11) was a village situated in the Yogo [1] Beiden province, [2] in the middle of the Bayushi fertile plains, providing more food and resources then any other settlement in the area. It was said that the only honest Scorpion heimin lived here, but that was usualy said mockingly by traders who traded here. [3] It was home to a large contingent of Bayushi soldiers because of its strategic situation. [4]
Yogo Estates
Edit
Kagoki also served as a sort of diplomatic headquarters for the Yogo as it was more accessible than many other of the Yogo holdings. The administrator of Yogo Estates was given to the most promising and shrewd Yogo. These estates were home to the incredibly infrequent Winter Courts hosted by the Yogo family. [5]
Starvation
Edit
Rosoku, the heir of Shinsei, had been murdered and it angered Bishamon for the Scorpion inability to protect him. In 1167 the Fortune appeared in Kagoki and razed much of the farmlands. The Scorpion faced starvation as a result. [6] The region was later known as Bishamon's Curse. [7]
Destroyer War
Edit
In 1173 during the Destroyer War Kagoki was assaulted by the forces of Kali-Ma. Known defender were Kakita Matabei and Kakita Korihime. [8]
References
Community content is available under
CC-BY-SA
unless otherwise noted.