Please note: This article is about the Lion city near the Crane Clan. For the former Unicorn, now Lion city, please see Toshi sano Kanemochi Kaeru.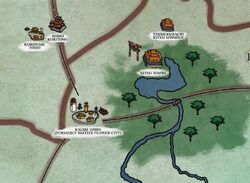 Captured City (L17) in the Kaeru province [1] was called so because the Lion took it from the Crane during the Lion-Crane War. [2]
Crane City
Edit
Matsu Himeko, the fifth daughter of a Matsu Daimyo had her parents and sisters killed fighting the Crane. She ran from Shiro Matsu to Kaeru Toshi to avenge their deaths. She returned carrying a Daidoji's head in his own furoshiki, and took her place as daimyo. The road she used was known as Fifth Daughter Road. [3]
The city had always been one of the most prosperous trading cities in the Empire, a waypoint for many caravans, generating a great amount of taxes. [4]
Lion City
Edit
The Matsu family seized control in 1124. The city was renamed by Matsu Tsuko from "Brittle Flower" to "Captured City", [4] and made into a staging ground for assaults on Shiro sano Kakita, and the Osari Plains. [5] Years of quiet rebellion followed, but the Crane had since been welcomed into the city after the recent Lion-Crane alliance. So far the populace remained peaceful there. [2]
Crane attack
Edit
In 1159 Daidoji Harriers had been sneaking into the city, poisoning the Lion army's food and water supplies. They destroyed the municipal offices, the city's main gate, and fires were set at impor­tant points throughout the city. The city governor Ikoma Harunaga was kidnapped by the Harriers, and the city erupted in chaos, while a Crane army was approaching. A group of samurai aided the Lion to retain the control. [6]
Notable Locations
Edit
Known Governors
Edit
References
Sources Conflict
The sources relating to this article are in conflict with each other.
In Secrets of the Lion page 95 the province Ma7 must be Kaeru province. --Oni no Pikachu 22:05, July 30, 2012 (UTC)
Community content is available under
CC-BY-SA
unless otherwise noted.