Jurojin was the Fortune of Longevity and one of the Seven Fortunes. [1]
Appearance
[
]
Jurojin was represented with a long, white beard. He could speak to all the animals of the Empire, and knew everything that they saw. Jurojin did not often take a personal hand in the lives of those under his protection, though the family and friends of such individuals tended to live long, happy lives. [2] The Scorpion revered him for the secrets he possessed. [3]
Temples to Jurojin
[
]
His largest shrine, Seido Jurojin, was located within the Crane provinces, and its waters could heal any wounds or illness by drinking. [2] Another shrine in the Isawa lands, also named Seido Jurojin, predated the Fall of the Kami. The Tribe of Isawa had built a tiny temple to the Fortune of Longevity, and Jurojin visited the site when he entered the Realm of Mortals, as he never forgotten the dedication of Isawa and his siblings. [4]
Celestial Unrest
[
]
In 1170 the seven fortunes supported the Jade Dragon and Obsidian Dragon when they challenged and defeated Yakamo, Lord Sun, and Hitomi, Lady Moon. [5]
Togashi ascends
[
]
The Kami Togashi was a lawbreaker of the Celestial Order, a mortal whose soul remained in Ningen-do avoiding death. It drew the attention of the Seven Fortunes who judged his interaction illegal. Togashi eventually accepted their judgment and ascended to Tengoku. [6]
External Links
[
]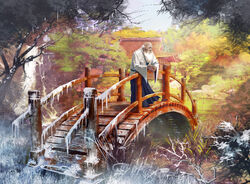 References