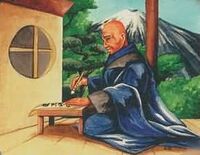 Imperial Scribes were people who wrote books or documents by hand to help the Emperor to keep track of their records, [1] or writing the invitations to Emperor's winter court. [2]
They were the only people aside from the Emperors themselves who were allowed to read the Wisdom of the Heavens, the final words spoken by each Emperor.[1]
Known Imperial Scribes
Edit
See also
Edit
References
↑ Winter Court: Kyuden Seppun, p. 48
↑ Legend of the Five Rings; Third Edition, p. 11
Community content is available under
CC-BY-SA
unless otherwise noted.