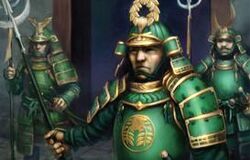 The Imperial Guard was a military unit devoted to the protection of the Emperor, although they were usually subordinate in duties to the Seppun Miharu. Members of the Imperial Guard were known as Imperial Guardsmen and were drawn from all of the clans, both great and minor. [citation needed]
Beginnings
Edit
Anzu, Seppun's son, was trained among the most renowned warriors in the fledging Empire, building a core of bushi techniques that would come to define the Imperial Guard. [1]
Slaughtered
Edit
In 1169 during the Battle of Toshi Ranbo the palace's defenders were slain almost to a man. The Seppun accepted the Phoenix offer to aid in its defense, and Shiba Naoya was appointed as Captain of the Imperial Guard. [2]
Toturi family's Stewardship
Edit
With all the true members of the Toturi Dynasty dead, the Toturi family sought to find a purpose by taking control of the Imperial Guard. To the Seppun, with no Emperor there was little point in serving as the Imperial Guard, so they helped in training the Toturi and begun the transfer of their Seppun Miharu school to the Toturi family. [3]
External Links
Edit
References
Community content is available under
CC-BY-SA
unless otherwise noted.