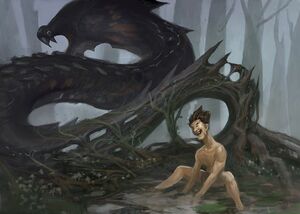 Hidekazu was a shugenja who worshipped the dragon P'an Ku.
Self-contemplation
Edit
The disciple of P'an Ku was in solitude in the Spine of the World Mountains for years, without any purpose except to understand better his master. [1]
Inflitrating the Unicorn
Edit
When a Unicorn unit passed by, Hidekazu felt his master demanded to demonstrate his worth. This was an opportunity to prove himself. From the pool of darkness where he had lain, slunk off into the mountains, following the others. Hidekazu killed and took the place of Moto Chiang in the Unicorn Clan Army, who was under the command of Moto Jin-sahn. [1] Hidekazu began sabotaging them. [2]
Despite he was not normally assigned sentry duty inside of Shiro Moto, Hidekazu began to search his prey between the corridors of the castle. [3] He was later sent to the Western Steppes. [4]
Becoming Toru
Edit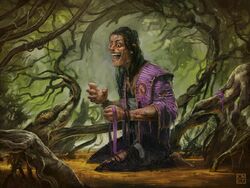 Hidekazu used to awake from his meditations with blooded clothes and with memory loss of his deeds. This also happened in Unicorn lands when he, still in disguise as Moto Chiang, stayed at a temple of Natsu-Togumara, the Fortune of Travel and Experience. There he was also given a vision by P'an Ku which he interpreted thus that he needed to become someone else. He killed a young man called Toru, the member of a winter caravan, and assumed his identity. [5] When the caravan left the city and headed towards the Imperial City, they passed the magistrate Moto Hotei, who was hunting for Chiang and investigated the murders that happened in the city. Among the victims was an Imperial tax collector, so Yoritomo Utemaro, the Imperial Treasurer had tasked Hotei with the investigation. [6]
Toshi Ranbo
Edit
Hidekazu moved to Toshi Ranbo and followed his trials of murders. [7] Corpses continued to appear throughout the empire for many years, without any clues or explanations. [8]
See also
Edit
External Links
Edit
References
Community content is available under
CC-BY-SA
unless otherwise noted.