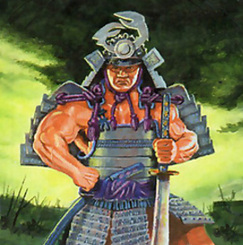 Hida Yasuhiro was a bushi of the crab Clan.
Training
Edit
Yasuhiro was an anomaly among the students of the Daishiki's Anvil Dojo. Yasuhiro chose to not adopt any techniques from other schools and stayed with the Hida Bushi school. Yasuhiro firmly believed that the Hida Bushi school was the strongest school and was a fervent proponent of its style. [1]
Crane Friend
Edit
Yasuhiro became good friends with Daidoji Gudeta, a Crane Clan bushi. [2] Gudeta had unsuccesfully tried many times to kill Yasuhiro during the Second Yasuki War and grew to admire Yasuhiro very much. [3]
Yasuhiro fought alongside Gudeta several times, with Gudeta often saving Yasuhiro's life with a well placed arrow. Gudeta swore to avenge Yasuhiro's death. [4]
External Links
Edit
References