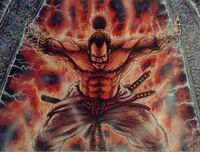 The Gate of the Dead, also known as the 'Rift', was located in Meido, the Realm of Waiting. [1] It was the arched entrance to the underwold, [2] a nexus to all realms associated with the kharmic cycle itself: Ningen-do, Yomi, Gaki-do, Toshigoku, and Chikushudo. The Gate could also access Jigoku, but only did so at the will of Emma-O. It stood behind the judgment seat of Emma-O himself. [3]
Fall of Ryoshun
Edit
When eight stars fell to the North and one star fell deep into the south the Qatol decided the Naga race had to enter in the Great Sleep. He moved to the Gates of the Dead and saw Ryoshun falling over the arch. [4] The Rift was an area of existence between all the Spirit Realms. [5]
Appearance
Edit
This gate stood ten times the size of a man, and was as wide as it was tall. Its frame was a coiled serpent of stone that intertwined with itself to form a circle. Emma-O, the Fortune of Death himself stood beside the gate and judged each mortal soul there, one by one. The Tenth Kami, Ryoshun, stood guard and ensured that each soul was drawn into the realm Emma-O had assigned it. [1]
Pass to the Black Earth
Edit
In 1132 Moto Gaheris underwent a divine experience and traveled to the Black Earth; [6] to release the Kami Shinjo from there, he moved to the Gate of the Dead. [7] Gaheris focused on the swirling darkness, and gazed a figure into the rift, Ryoshun. [8] The Tenth Kami, the Guardian of the Rift, guided him there, but suddenly he disappeared. [9] Ryoshun had been retrieved by a maho ritual and shortly after was killed by the Bloodspeaker Jama Suru. [10]
Awakening
Edit
Shinjo awakened from her slumber beyond the rift and flied forth into the Black Earth where Moto Gaheris was waiting. They eventually escaped the barren realm, and Shinjo's freedom was complete. [7]
References