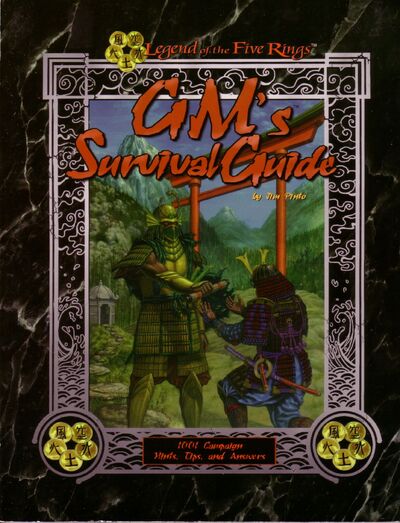 Game Master's Survival Guide was a book to help Gamemasters customize their campaigns in the Legend of the Five Rings roleplaying game.
Writen by: Jim Pinto
Additional Material by: Kevin P. Boerwinkle, Steve Hough, Patrick Kapera, Mike
Leader, Mustafa, Ree Soesbee, Rob Vaux, John Wick, Joseph Wolf, Ray Yand
Game Ssytem by: David Williams and John Wick
Art Director: Jennifer Wick
Cover Artwork: Carl Frank
Interior Artwork: Cris Dornaus, Liz Danforth, Carl Frank, Daerick Gross, Rob Hinds, Gary Mckee, Jeff Menges, Jennifer Wick
Maps: Jennifer Wick
Artwork Prepress: David Agoston, Brendon Goodyear
Line Developer: Ree Soesbee
Line Editor: D.J. Trindle
Editing: Patrick Kapera, Laura Segarra, Alan Smithee
Interior Layout: Dave Agoston, Brendon Goodyear, Steve Hough, Patrick Kapera, Jim Pinto, Ree Soesbee
Contents
Edit
Introduction (page 4)
Edit
The Book of Earth (page 8)
Edit
The Emerald Empire
The Land
The People
Habits and Lifestyle

Addressing Samurai
Unclean

Religion
Food
Book of Water (page 28)
Edit
Assuming the Role
Methods of Character
Mechanical Character Design
Character Option Compilation
Book of Fire (page 48)
Edit
Using the system
Combat Rules
Character Advancement
Tools of the Trade
Optional Rules
Book of Air (page 68)
Edit
Path of Blood, pt 4 Fiction
Samurai Ethics
Styles of Play
During the Game
Troubleshooting
Handling NPCs
Creatures of Rokugan
Book of Void (page 110)
Edit
Making L5R Your Own
Campaign Structure
Advanced Structure
The First Adventure
The Great Sleep
Appendix (page 142)
Edit
Author's Notes
Miscellaneous Tables
Maps
Community content is available under
CC-BY-SA
unless otherwise noted.