The Four Winds was the nickname for the four heirs of Emperor Toturi I after his death.
The Winds
Edit
The four children of Toturi I were, in order of age;
Nezumi name
Edit
They were known as Ashi-romit by the nezumi race. [1]
Power Struggle
Edit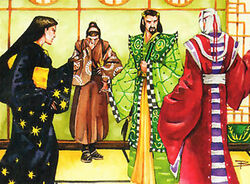 In the years following the death of their father in 1158, the Four Winds each vied for the throne to one extent or another. [citation needed]
The Four Winds March
Edit
The Four Winds Era culminated in the Four Winds March in 1160 when they led a unified assault on Daigotsu in the Shadowlands. Daigotsu, who had been behind the assassination of Toturi, was defeated, but at the cost of Tsudao's life. [2] [3]
Resolution
Edit
After their return to the capital, Sezaru and Kaneka relinquished their claims to the throne, swearing fealty to the Phoenix Clan to avoid continued conflict over who would take the throne. Naseru was crowned Emperor Toturi III, making his sister Tsudao Empress Toturi II retroactively. [4]
Final End
Edit
The Toturi dynasty came to a final end nine years later. In 1168, after a rash of "enlightenment" swept over the Empire, Toturi III decided to investigate by entering the Empire anonymously. In the course of his investigation he travelled to the Shadowlands, where the Battle of the Tomb resulted in his death. [5] The Empire was thrown into turmoil, and the other two remaining heirs (Kaneka and Sezaru) were killed in the Khan Moto Chagatai's assault on the Imperial Capital. With the death of Naseru's wife, Empress Toturi Kurako, the Toturi dynasty came to and end. [6]
References
↑ The Four Winds p. 58
↑ Legend of the Five Rings; Third Edition p. 25
↑ The Four Winds p. 59
↑ The Truest Test, Part 3, by the Legend of the Five Rings [[Story Team]
Community content is available under
CC-BY-SA
unless otherwise noted.