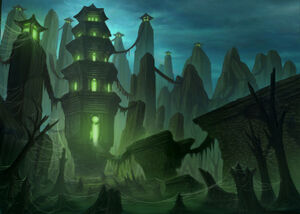 The Fingers of Bone (SH5) was the capital of the Spider Clan after Iweko outlawed the Spider in 1170 and had them driven out of the Shinomen Mori. [1]
Feat of nature
Edit
The Fingers of bone were numerous tall rock spires concealed within a canyon, virtually impossible to find unless one knew what one was looking for, and exactly where to look for it. [2] It was located in the Northern Wall Mountains, beyond the northern borders of Rokugan. [3]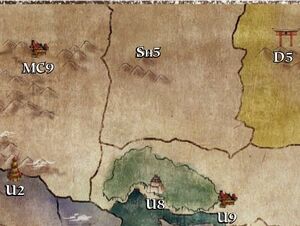 The Spider Clan built a castle which was nearly to be ready in the Month of the Dog of 1171. [4] A large portion of the entire Spider Clan can be housed within the Fingers of Bone. [5]
Daigotsu's Tower
Edit
Daigotsu had a private tower, tallest and grandest of the spires. Only his family and his son's yojimbo Kayomasa could freely enter it. Others were only admitted to the audience chamber in the first level. [6]
Uncovered
Edit
In 1173 the Shogun Moto Jin-sahn reported Daigotsu's lair had been discovered. [7]
External Links
Edit
References
Community content is available under
CC-BY-SA
unless otherwise noted.