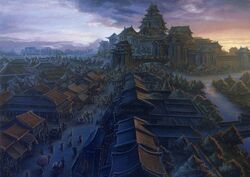 An Embassy was the residence of an Ambassador, where he usually resided and conducted his daily business while he was not in the court where he had been assigned. [citation needed]
First Rokugani Embassies
Edit
After the War Against Fu Leng embassies for each of the Rokugani clans were built inside the Ekohikei, protected by the Miwaku Kabe. [1] They were protected by military forces drawn from the armies of each clan. [2]
References
Community content is available under
CC-BY-SA
unless otherwise noted.