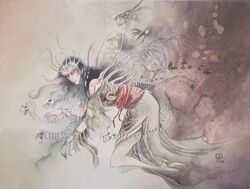 Ekibyogami was the Fortune of Plague and Pestilence. She served the will of Jurojin by sparing or spreading disease as he saw fit. Outside of those edicts, Ekibyogami was free to act as she wished, and tended to be among the most spiteful of all Fortunes. [1] Ekibyogami cursed those who had failed to observe the sovereignty of the Fortunes. [2] She was once convinced to halt a plague in Sunda Mizu Mura by Willow-Healing kami. [3]
External Links
Edit
References
Community content is available under
CC-BY-SA
unless otherwise noted.