Doji Nashiko was a courtier of the Crane Clan in the 6th century who became the Demon Bride of Fu Leng. [1]
Crane Clan
Edit
Nashiko was the daughter of the samurai Doji Osenshi. [2]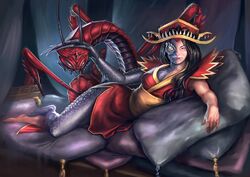 Nashiko was a vain woman. She sold her soul to become the most beautiful woman in Rokugan. [3]
Plain-featured yet vain, Nashiko was distraught when she was passed over for marriage by the Emerald Champion Doji Komatsu, who selected Kakita Nenko instead. [2] Nashiko seduced Komatsu [3] and over half the men of his court. She gave their names to oni to start a war that was eventually stricken from the Ikoma histories, [2] but it was remembered through the play Virtue. [3]
Akutenshi
Edit
When exposed she fled to the Shadowlands where she lived as an akutenshi, an immortal human servitor of Fu Leng. Her corruption made her the Demon Bride of Fu Leng. She was rumored to have borne over a dozen children in the next five centuries. [2]
Nashiko returned to Rokugan more than once, spying for Fu Leng and gaining favors for his servants. [2] She used her powers of illusion to seduce and corrupt men, as well as to kill women whose beauty arouses her inhuman jealousy. She was also incredibly vain, wishing to always be known as the most beautiful woman in Rokugan. Any highly attractive woman was liable to draw her hostility. [3]
See also
Edit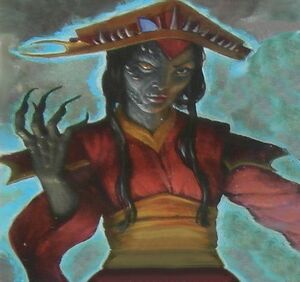 External Link
Edit
References
↑ Enemies of the Empire, p. 55
Community content is available under
CC-BY-SA
unless otherwise noted.