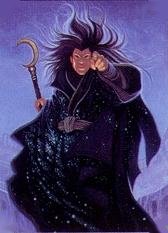 The Dark Oracle of Void was the dark mirror of the Oracle of Void in Rokugan.
Tonbo Toryu
Edit
The first Dark Oracle of Void was Tonbo Toryu, the Oracle of Thunder, who in 1159 took up the post in an attempt to balance the elements after the Oracle of Void Isawa Kaede took the throne upon the death of her husband Toturi. [1]
Return of Light & Dark
Edit
After twenty years of peace under the rule of Iweko I, the Celestial Order had been restored and Ningen-do was again neutral. In 1199 the Elemental Dragons prepared the return of the Oracles of Light, as well as the Dark Oracles, permitted leave from the depths of Jigoku by their master, Daigotsu. [2]
External Links
Edit
References
Community content is available under
CC-BY-SA
unless otherwise noted.