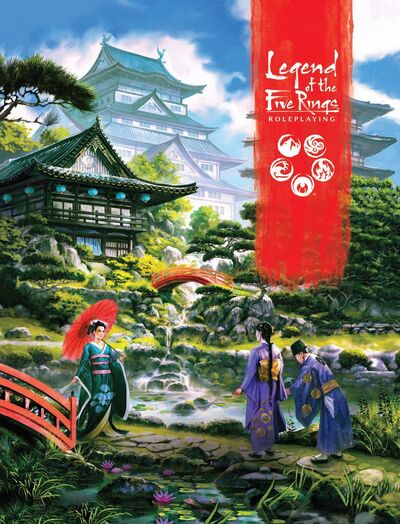 Courts of Stone: The Essential Guide to Castles and Politics in Rokugan was the third source book for Fifth Edition of the Legend of the Five Rings roleplaying game under Fantasy Flight Games.
Expansion Design and Development: Sam Gregor-Stewart
Additional Development: Max Brooke, Robert Denton III, E.A. Dunn, Alexis Dykema, Dominic Hoeppner, James Mendez Hodes, Ian Houlihan, D.G. Laderoute, Katrina Ostrander
Editing: Christine Crabb
Proofreading: Megyn Johanson and Riley Miller
Legend of the Five Rings Story Review: Max Brooke and Tyler Parrott
Expansion Graphic Design: Sebastian Koziner and Michael Silsby
Graphic Design Coordinator: Joseph D. Olson
Graphic Design Manager: Christopher Hosch
Front Cover Art: Mathias Kollros
Back Cover Art: Nele Diel
Interior Art: Francesca Baerald, Noah Bradley, Mauro Dal Bo, Marius Bota, Sergio Camarena, Mike Capprotti, Anna Christenson, Conceptopolis, Leanna Crossan, Carlos Palma Cruchaga, Sam Davies, Nele Diel, Derek D Edgell, Jason Engle, Shen Fei, Tony Foti, Felipe Gaona, Lin Hsiang, Amelie Hutt, Brian Judkins, Daria Khlebnikova, MuYoung Kim, Drazenka Kimpel, Pavel Kolomeyets, Diego Gisbert Llorens, Joyce Maureira, Chris Ostrowski, Borja Pindado, Polar Engine, Philip Quine, Eli Ring, Isuardi Therianto, Jokubas Uogintas, Charles Urbach, and Le Vuong
Art Direction: Andy Christensen and Jeff Lee Johnson
Managing Art Director: Tony Bradt
Quality Assurance Coordinator: Zach Tewalthomas
Production Management: Justin Anger and Jason Glawe
Visual Creative Director: Brian Schomburg
Senior Project Manager: John Franz-Wichlacz
Senior Manager of Product Development: Chris Gerber
Executive Game Designer: Corey Konieczka
Head of Studio: Andrew Navaro
Playtesters: Kris Van Beurden, Bono Chuins, Nick Corlett, Sam Davies, Stephen Donnachie, Robert Keasley, Michael Lawrence, Jamie Lewis, Julia Nienaber, Maryke Nol, Phil Quine, Theo Russell, Addison Rexford Smith, Matt Tyler, Tam Dang Vu, and Jan Van Zon
Contents
Edit
Credits (page 2)
Edit
Table of Contents (page 3)
Edit
Introduction (page 6)
Edit
Chapter 1: Imperial Strongholds (Page 7)
Edit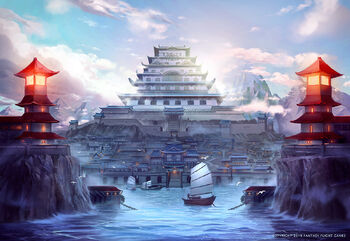 Castles in Rokugan
Castles as Fortresses
Castle Residents
Castle Towns
Castles as Political Centers
The Winter Court
Sample Castles
The Crane Clan
Families of the Crane
Crane Lands
Masters of the Court
Shadows of the Court
Chapter 2: Wars of Words and Shadows (Page 78)
Edit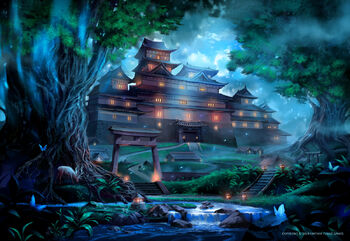 Chapter 3: Games of Discourse (Page 120)
Edit
Community content is available under
CC-BY-SA
unless otherwise noted.