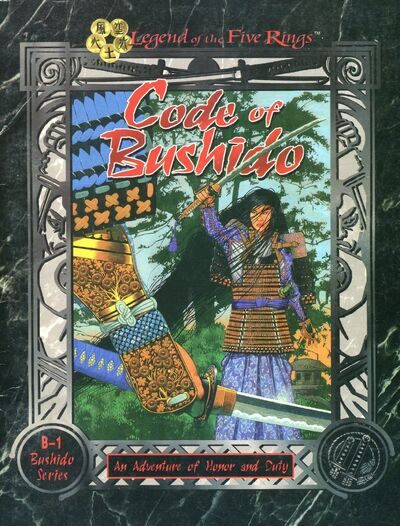 Code of Bushido was an adventure book for the Legend of the Five Rings roleplaying game. It was the first of the 'B' series of adventures, designed to test players' understanding of honor, loyalty and ethics - Bushido, the code of the warrior.
Game System by: David Williams and John Wick
Cover Artwork: Brian Snoody
Interior Artwork: Cris Dornaus, Jason Felix, Carl Frank, Tom Gianni, Francis Hogan, Scott James, Ben Peck and Ramon Perez
Maps: Cris Dornaus
Artwork Prepress: Cris Dornaus, Steve Hough, Sean Thompson
Line Editor: D.J. Trindle
Editing: Pat Kapera, D.J. Trindle
Interior Layout: Steve Hough, Rob Vaux
Table of Contents
Edit
Introduction (page 4)
Edit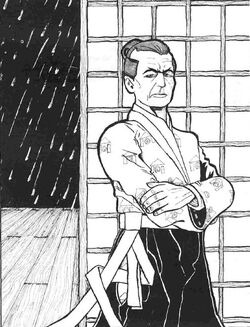 Part I: A Matter of Honor (page 5)
Edit
Part II: Testimony, Murder, and Lies (page 18)
Edit
Background
Day I, Month of the Horse

The feast (evening)
Night

Day 2-11, the Month of the Horse
Day 12, Month of the Horse
What's Really Hapenning
Day 12, Pre-Dawn

Morning (Middle of the Hour of the Ox, 3 am)
Clues in the Room

Clue 1 - The Letter
Clue 2 - Isawa Tomo
Clue 3 - Who was the better fighter?
Clue 4 - How Did the Murderer Get In?
Clue 5 - The Balcony

Testimony from Witnesses

Clue 1 - The Guest
Clue 2 - House Guards
Clue 3 - Guards on the Walls
Clue 4 - Motive
Clue 5 - Koan
Morning

Day 13, Month of the Horse

Morning
Afternoon
Evening
The Actors
The Pantry

Day 14, Month of the Horse
Part III: Deadly Ground (page 35)
Edit
Overview
The Kidnapping

Scene One: Rude Awakenings
Scene Two: A Quiet Call For Help
Scene Three: Fall From Grace
What's Really Going On
Niban's Story

Confrontation

The Characters
Tobuko's Fate
Afterword

Conclusion
At the Last
The Way of the Mantis: A Prelude (page 44)
Edit
Dramatis Personae (page 48)
Edit
Community content is available under
CC-BY-SA
unless otherwise noted.