Shinjo Hanoshi was a magistrate of the Unicorn Clan who joined the Brotherhood of Shinsei as the monk Hanoshi. He was lost in the War Against Shadow and raised as High Priest of Fu Leng with Daigotsu as Chuda Hanoshi.
Unicorn Clan
Edit
Shinjo Hanoshi served as both a courtier and an Imperial Magistrate before joining the Brotherhood. He studied the Kitsuki Method and applied it both in his career as a samurai and his studies as a monk. He had a deep scar across his belly as a reminder to be careful when undertaking an investigation. [1]
Guardianship of Kochohime
Edit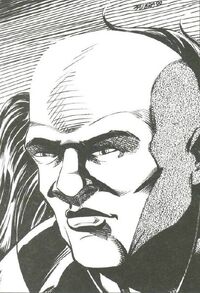 Hanoshi was also the monk in whose care Tzurui left Kochohime after the fall of Shiro Nanbu. [2]
Fall to the Taint
Edit
During the Battle of Oblivion's Gate Hanoshi was one of many who became tainted and joined the lost. Hanoshi became convinced that the Taint was the key to enlightenment and went so far as to stitch his eyes shut in order to fully devote himself to the new sensations he was experiencing. [3] Two jagged, criss-cross scars marked where his eyes had once been. [4]
Joining the Chuda
Edit
Hanoshi's madness fascinated the Chuda Daimyo, Chuda Mishime, who accepted the madman despite Hanoshi was not a shugenja. Chuda Hanoshi was appointed as sensei to the Temple of Venom. [3] Daigotsu raised Hanoshi as the High Priest of Fu Leng of the Temple of the Ninth Kami. [5]
See also
Edit
External Links
Edit
References
Community content is available under
CC-BY-SA
unless otherwise noted.