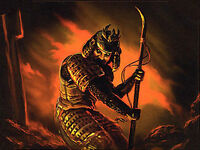 Literally, warrior, a bushi was a follower of Bushido, the code of honor traditionally held by the samurai caste of Rokugan. This usually entailed direct adherence to the Seven Virtues of Bushido as well as demonstrating martial skill. Traditionally, if wearing a sword was the privilege of a samurai, wearing the daisho, the pair of short and long swords, was the mark of bushi.
Bushi of Rokugan
Edit
Because of the importance of bushi in the samurai caste, all of the Great Clans sponsored at least one important bushi school, always within the most martially inclined of their families. Even the Minor Clans had their own bushi schools, although not all did. Some, such as the Dragonfly Clan were allowed to study in schools of the Mirumoto and Shiba family due to their connections with those clans.[citation needed]
Bushi of the Shadowlands
Edit
Daigotsu's Legion was the first bushi school among the Lost. [1]
References
↑ Art of the Duel, p. 126
Community content is available under
CC-BY-SA
unless otherwise noted.