Br'nn was a nezumi scavenger of the One Tribe. It joined the Those Who Wait Tribe on the Day After Tomorrow.
New Tribe
Edit
Br'nn was one of the few nezumi that remained in Rokugan after the Battle of Tomorrow nearly ended the nezumi race. [1] It became member of Those Who Wait Tribe, which was first formed on Day After Tomorrow. Rus'tik'tik was one of the very few Rememberers the tribe had. [2]
Br'nn was named after his father, as his father to his grandfather, as his grandfather to his grand-grandfather, and so on. [3]
Colonies
Edit
In 1199 Br'nn was in the Colonies, near Jungle's Shadow Village. The creature saw the attack of the slumbering Ashalan known as the Crystal Wind, who used his tattoos to thrall the Rokugani. Br'nn aided Moto Miyu to escape, [3] and they met other survivors, Doji Razan, and Isawa Mizuhama. The group was surrounded by those who the Ashalan had enthralled, and eventually they faced Crystal Wind. Br'nn collapsed a tunnel warren beneath the Ashalan, and Miyu grabbed a Blue Dagger the enemy had been using. The weapon bore sigils to Miyu that enthralled him. The effects passed once Crystal Wind died, pierced by one of his own strange weapons. Br'nn bore one of those sigils in the hand he had wielded the dagger. The Nezumi felt itself younger, and more vital. [2]
Immortal
Edit
In the incident with the Ashalan Br'nn had been given the gift of longevity. His eternal youth had had a tremendous impact on the nezumi, and was regarded as something akin to a living legend. The Broken Shinbone, the Chipped Tooth Tribe, and other surviving nezumi attended his call for a gathering in the Shinomen Mori. [4] In 1199 the immortal nezumi summoned all that remained of his people to create the Last Tribe of Nezumi. They would be the memory of their people, living on at the edge of human civilization, remembering forever the valor and the sacrifice of the Nezumi people. [5]
External Links
Edit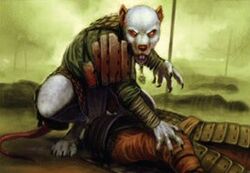 References
Community content is available under
CC-BY-SA
unless otherwise noted.